🇩🇪 Dieser Artikel ist auch auf Deutsch verfügbar.
In my eyes, Turkey is a perfect cycling destination. In this article I give a few reasons for cycling in Turkey, present my personal highlights and give some general advice on cycling in Turkey. In other words, an article written by a cycle traveler for cycle travelers. This information is based on a six-month stay and over 8000 kilometres cycled in Turkey in 2022/23.
Content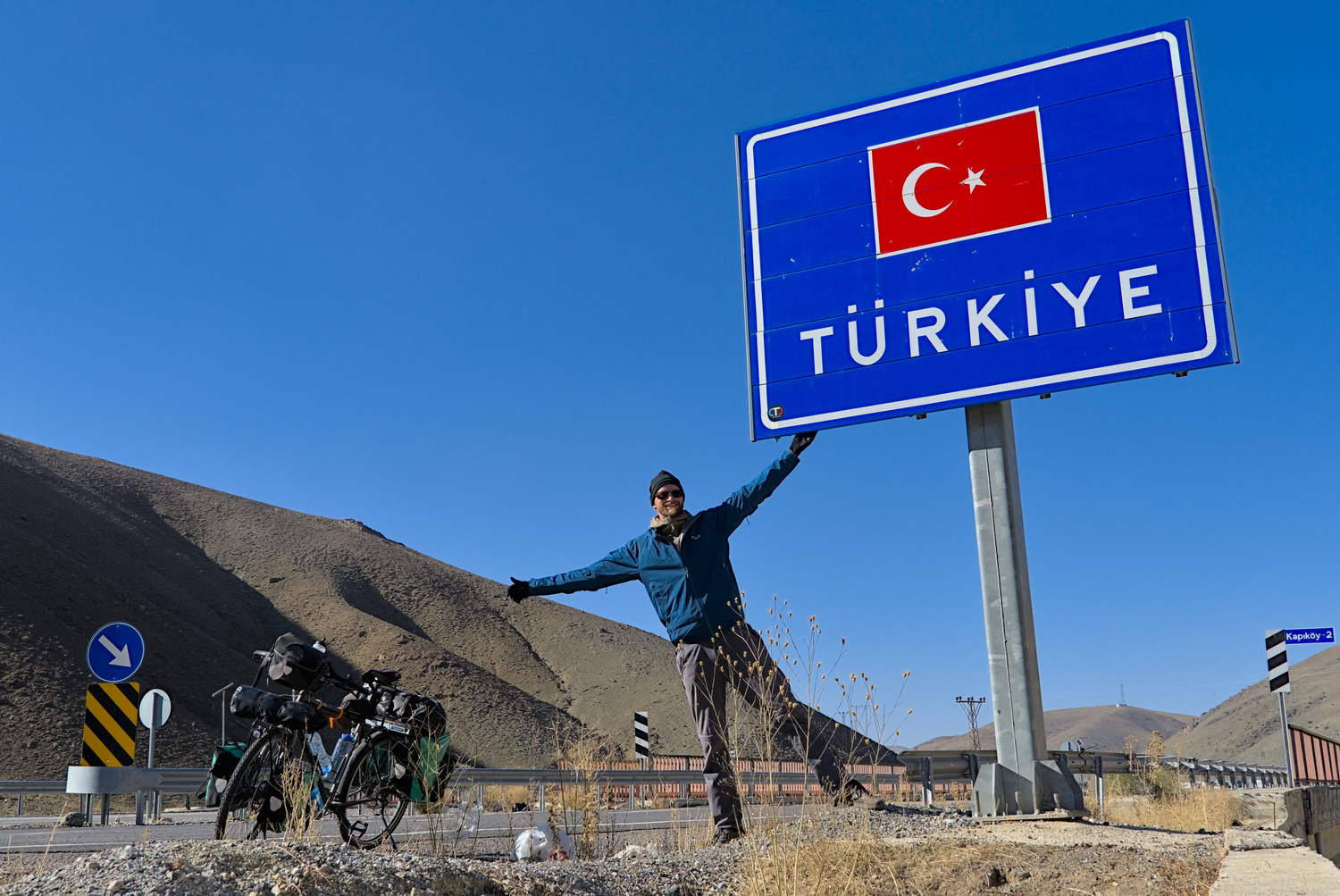 Reasons to visit Turkey
The people!
The open-mindedness, curiosity and hospitality of the people living in Turkey is phenomenal. If you are not shy, you will love the numerous encounters that inevitably arise. Unfortunately, not many Turks speak communicable English, but you will often meet a few Turks who speak German, and Google Translate is a great help. Off the typical tourist routes, cyclists are constantly invited for a Çay or even something to eat. Sometimes you are even invited to stay overnight. And if you have a problem, the Turks really try to pull out all the stops to help you.
Nature!
Turkey is a big country with an incredibly high variation of landscapes. Whether it's the Mediterranean coast, alpine mountain landscapes, barren almost steppe-like meadows, extremely humid deep green mountains on the Black Sea, breathtaking canyons – there really is a lot to see.
The culture and history!
Coming from Europe, the Orient begins in Turkey. Even though the country has come closer and closer to the West in recent years, it is extremely different from Western Europe – you could say the world works differently there and it is definitely worth getting involved. In addition, there are lots of historically exciting sites to visit from all kinds of eras, for example, lots of ancient sites, cave cities, or numerous buildings from the time of the Ottoman Empire.
The infrastructure!
The conditions for touring cyclists are simply perfect, but there is a whole separate section on that.
Map
blue markers: places and routes worth seeing
blue routes: recommended routes
green markers: cycle shops and other practical points of interest
Open the map in full screen here at OpenStreetMaps.
Places of interest and routes
Istanbul
Even if you're not necessarily a fan of big cities – Istanbul is something special and definitely worth seeing. It's not just the classic tourist attractions that make this metropolis so interesting, it's the absolutely chaotic permanent hustle and bustle that gives the city its own charm. It is impossible to adequately appreciate the city in 2-3 sentences, so here is my Istanbul report.

BUT: It is a hell for cyclists. Therefore, here are two variants to get into the city:

from Greece, turn right in Keşan to Canakkale and then take one of the ferries across the Marmara Sea into Istanbul (from Bandirma or Yalova, I left Istanbul by ferry to Yalova).
A little less relaxed but still avoiding the worst traffic: continue from Tekirdağ to the "suburb" Beylikdüzü and take the metro bus to Istanbul city centre (goes between 10am and 4pm, very cheap and fast, at the stop you can just roll your bike into the bus, the stop is marked on the map).
I still recommend the first option.

The Valley of the Phrygians
The Phrygians were a people who settled a part of Anatolia in the 8th century BC. They also built rock and cave cities. Between Seyitgazi and Afyonkarahisar it is worth taking the back roads and you can explore rock tombs and so on completely far away from the big tourism. You can read my report here. On the map you will find the route I took, but there is more to find "left and right" of it.
Tip: Take enough food for a few days, there is not much going on in the villages.
Cappadocia
Everyone has certainly heard or seen something of Cappadocia: Abandoned cave towns and hot air balloons – one of Turkey's ultimate tourist destinations.
But the region is definitely worth a visit. For one thing, as cyclists we can just stop anywhere and enjoy the view while all the tourist masses just sit in their bus and roll on – ugh! And for another, there are plenty of quiet places.
Highlights for me were: the village of Selime, the Ihlara Canyon, the cave town of Derinkuyu (tip: be the first to arrive at the opening time and you'll be alone) and of course the Göreme National Park (tip: instead of staying in overpriced accommodation, you can simply camp in more remote valleys or sleep in one of the countless caves 😉 )
Here is my post on Cappadocia.
Sagalassos
There are countless ancient sites in Turkey, which can quickly become boring in the long run. Sagalassos, however, was my highlight – it is an abandoned ancient city high in the mountains where there is still relatively much to see. In the blog I called it the "Machu Picchu of Turkey". And it's not very touristic. The serpentines up are very well asphalted, campspots can also be found during the final ascent.
Lakes Route: From Lake Egidir to Lake Salda
It was a picturesque cycling round from Lake Egidir to the Yazili Canyon and Lake Karacaören and from there past Lake Burdur to the so-called Maldives of Turkey – Lake Salda. In the map you can find the exact route I took, mostly on small roads with less traffic. The landscape was very attractive, typical for Turkey, but with a lot of altitude. Sagalassos, which I mentioned earlier, is also on the route.
Impressions of the route can be found here.
Mediterranean coast
The Turkish Mediterranean coast is extremely long. Not all parts of it are recommendable; east of Antalya, for example, it is absolutely touristy, and there are only quite wide roads to the east. The general rule is: the smaller the road, the nicer. I was in the region once in April and later again from December to February. The temperatures on the Mediterranean coast are quite suitable for an overwintering cycling trip, and a detour to Cyprus by ferry from Taşucu is a good idea. However, it can also rain a little longer in winter.
Here are a few sections that I liked:

Akyaka to Türkevleri: very small, quiet road with beautiful views.
(Probably also very good further on towards Bodrum. The Marmaris peninsula nearby is also supposed to be very beautiful and suitable for cyclists, but unfortunately I didn't have enough time for that).
Fethiye: The whole region around Fethiye is beautiful, it is very green and the coastal sections look just great. However, Fethiye is already quite touristy and you have to look a bit harder for a good wild camping spot in the area.
Kalkan to Antalya: Most of the way is on the more busy D400, but the traffic only gets really tough shortly before Antalya (Attention: Between Kemer and Antalya there are some very busy, ugly tunnels with no hard shoulder. Alternatively, you can take a diversion from Kemer to Antalya via the 07-50). The views from Kalkan to Kemer are definitely worth cycling along.
Samandağ to Iskenderun: The easternmost section of the Turkish Mediterranean coast was also wonderful for cycling. However, I don't know what the conditions are like there now after the earthquake of spring 2023.

Route Antalya – Beyşehir
The first 100 kilometres of this route are not necessarily worthwhile. In a WhatsApp group of the cycling community, however, the question often came up how best to get from Antalya towards Cappadocia. I was quite happy with my route in the end, the climb to leave the coast was quite tough but the little road through the mountains was beautiful. You can find the route in the map above.
Göbekli Tepe and Southeast Anatolia
Southeast Anatolia (roughly the region from the Euphrates) is the area that is more populated by Kurds. The open-mindedness and hospitality of the Kurds is on a completely different level – it is definitely worthwhile to visit this region. Unfortunately, the earthquake devastated large parts of the region, so I can't make any concrete recommendations at the moment. The historical site of Göbekli Tepe should nevertheless be mentioned – it is a very special excavation site in which approx. 12,000-year-old installations for presumably ritual purposes were discovered. I found the visit there very rewarding despite the many other tourists – it had something awe-inspiring about it. Here are a few impressions.
Route Tunceli – Pülümür Pass
This route is definitely a pleasure. The road is relatively small and not very busy, there are just over 20 mini tunnels carved into the rock that can be passed safely and the views in the valley are simply beautiful.
Route Erzurum – Ispir – Ovit Pass – Rize
A great mountain crossing with four passes. Below the Ovit Pass there is the longest tunnel in Turkey (14 kilometres), but you bypass it on the old pass road. In the summer of 2022, many more tunnels were being built along the route, so it will probably not be so quiet there once everything is finished. Until then, you should definitely cycle. The route can be combined perfectly with the Pülümür Pass mentioned above. Report and Komoot track here.
Eastern Black Sea Coast
The landscape of the eastern Black Sea coast was something completely different. Steep lush green slopes covered with tea plantations, very high humidity and often drizzle – at least these were the conditions in the summer of 2022. Unfortunately, there is only the D010 for cycling, but most of the time there is a shoulder. The detour to Sümela Monastery was not worth it in my eyes, next time I would turn inland somewhere else, maybe to Artvin.
Salt Lake "Tuz Gölü"
Unfortunately I missed the salt lake due to unawareness, but I would definitely go there next time. If the weather conditions are dry, it should be really worthwhile. Coming from the west, Tuz Gölü can be easily combined with the journey to Cappadocia.
Lake Van
In the east of Turkey lies the rather large Lake Van, which of course offers many beautiful views. I rode around the lake from Van on the southern side to Tatvan. But the longer northern loop also looks tempting.
Of course, Turkey has much more to offer than these few attractions or routes, this is just my subjective selection of worthwhile things based on my experiences.
Infrastructure for cyclists
The headline sounds almost a bit exaggerated – when it comes to cycling trips, Turkey should not be compared to Denmark. Even though there are cycling clubs almost everywhere in the larger cities, there is no cycle path infrastructure in the country (disclaimer: yes, there are a few metres here and there, but you can't speak of infrastructure there). But there are some points that make Turkey a very pleasant destination for touring cyclists.
Good roads
The roads in Turkey are pretty good, most of them are reasonably paved – even quite a few small roads. The big roads have heavy traffic, but there is often a hard shoulder that cyclists can use. On the smaller roads, the traffic is not so heavy, so it's easy to cycle without the hard shoulder. But you should always watch out for traffic – the Turks are not necessarily the most considerate drivers.
On some routes there are tunnels. There is no hard shoulder in them, which is quite unpleasant on busy roads. On the Mediterranean coast, there is usually a button in front of the tunnel to activate a "cyclist beware in tunnel" sign, but it doesn't really help. To avoid this, either plan your route without a tunnel – there are often detours via the old roads that were there before the tunnel. Or try hitchhiking – the Turks will give you a lift.
Water supply
There are no problems with the water supply in Turkey. Very often there are fountains from which drinkable water flows, there is always water at mosques (which are really everywhere) and if there is not a water tank next to it in the blazing sun, it is also suitable for drinking. If you are unsure, use a drinking bottle with a built-in filter. You can also buy pre-packed water in any shop, but that's getting into the unspeakable plastic waste problem.
Wild camping
It is usually quite easy to find good places for wild camping. I have never been sent away anywhere. If you can't find a place: Just ask, the Turks will definitely help you.
Alternative places to sleep
Another possibility to spend a night free of charge are the prayer rooms – called mescit. Overland, there are these small prayer rooms at petrol stations, in very sparsely populated areas off the main roads, there are also these mescits without petrol stations. Just ask at the petrol station if you can sleep there, you will get a yes. Rumour has it that you can also spend the night in mosques, but then you have to ask the imam, he will assign you a place.
Far from the typical cycling routes, Warmshowers also work very well, but in more frequented areas you have to be a bit luckier. Contacting the local cycling clubs is also supposed to work well, but I haven't tried that.
Affordable hotels
Unfortunately, there are only a few hostels in Turkey's big cities, but you can find hotels everywhere. Booking.com only works with a VPN, but I didn't book in advance in Turkey, I just went from hotel to hotel in the cities, asked for the price, had the rooms shown to me, asked for a safe place for the bike and negotiated! Often you get a much better price by negotiating. Usually there was also a good Turkish breakfast in the hotels.
In many towns there is also the teacher's house – Öğretmenevi in Turkish. These are the cheapest accommodations, which have special prices for Turkish teachers.
Mosques
At mosques there is not only water, but always toilets. It is no problem for non-Muslims to use them. By the way, non-Muslims are also allowed to visit the prayer rooms of mosques, as long as they take off their shoes and wear appropriate clothing (knees covered, no revealing tops for women).
Food supply
You definitely don't have to go hungry in Turkey – the food supply is perfect. There are restaurants everywhere (quite cheap by German standards) and Turkish cuisine is quite varied and tasty, but also very meat-heavy. If you are a vegetarian, you will always find something, but it might get a bit boring in the long run. But you can also cook for yourself, because you can get food everywhere. Even small villages often have a small shop, in cities there are always enough supermarkets. My favourite: A101 – the blue supermarket has a reasonable assortment and good prices. Bim and Şok are a bit cheaper, but the selection isn't that great either. If you prefer something more upmarket, go to Migros – they have the best selection, but it costs a little more. Besides the chains, there are of course many other grocery stores, and in cities there are also bazaars where the selection of fresh fruit and vegetables is gigantic.
Spare parts supply
In larger cities, you can always find bicycle shops that also have higher-quality components. If there is a clean, large Shimano logo on the shop, that is usually a good indication. The bike scene is developing in Turkey, so the supply is increasing, but it is not cheap. Three shops where I had good experiences are marked on the map above (in Denizli, Izmir and Kayseri).
Outdoor equipment, clothing
You can buy anything in Turkey – it's a normal country. The problem is usually finding what you are looking for. In the big cities, special wishes can logically be fulfilled better than in provincial towns. Decathlon has several branches in Turkey, the easternmost one is in Diyarbakir. They also sell screw-in cartridges for gas cookers. As I was travelling with a petrol cooker, I didn't look for other places to buy screw-in cartridges. In Istanbul, north of the Galata Bridge, there are countless different outdoor shops very close to each other.
You can buy clothes in abundance in Turkey – be it in the bazaars or in the shops of western fashion labels.
Cash, card payments
With my Visa card, I was able to withdraw money free of charge at Halk Bank and Sekerbank. Presumably other banks offer this free of charge. In many shops, paying by card is no problem, but you should always have some cash with you, especially in restaurants or at the bazaar.
Mobile data
There are several mobile phone providers, Turkcell has served me well. Buying sim cards is not cheap, but recharging them is. You can find Turkcell shops everywhere. To register, you need the identity document you used when entering the country. If you have special characters (such as umlauts) in your name, write the international spelling of your name (as it appears on the bottom of your German passport, for example) on a piece of paper, otherwise it won't work. You can top up the card either via the Turkcell app with a credit card or simply in one of the numerous shops. The tourist sim is valid for three months and can be extended before the end of this period if you have an Ikamet (longer residence permit).
The Lüleborgaz Bicycle Academy
The bicycle clubs have already been mentioned, but the Bicycle Academy Lüleborgaz is something different. It is a kind of municipal project of the city of Lüleborgaz to promote cycling. And at the same time it is a kind of free hostel for cyclists – Turkish hospitality. You can rest there for a few days, meet other travellers, work on your bike … An absolute recommendation if you are in the vicinity! You can get in touch via Instagram, for example, or just drive by.
Hospitality
Did I mention the hospitality? On a cycling trip through Turkey, so many incredible things will happen to you thanks to very open-minded, warm-hearted people. Just go for it!
To note
Merhaba!
As in any country, you should build up a small travel vocabulary. Turkish is easy and goes over quite well.
Clothes, shoes off!
Turkey is an Islamic country. When you visit mosques or churches, you should dress appropriately out of respect. In concrete terms, this means trousers that are at least above the knees and, for women, no tops that are too revealing.
When invited home, take off your shoes.
Tipping
It is customary to tip ten per cent in restaurants.
Going to the toilet
Squat toilets are common in Turkey. In hotels there are also sit-down toilets. You will not always find toilet paper, but you will find a bucket with water or a water hose. So bring some with you if you need it. But beware – the sewage system is not designed for toilet paper and would clog up with it, so throw it into the bucket next to the toilet!
Pharmacies
Pharmacies ("Eczane", illuminated signs with a big red E on a white background) are everywhere. But what you won't find there: Charcoal tablets. So take a few more with you, you can get a little food poisoning 😉
Tourist visa
With a German passport (probably also valid for at least all EU citizens) you will get a 90-day tourist visa at the border crossing (classic stamp). These 90 days are valid from the first entry within 180 days. This means you can leave and enter the country again in between. The next 90 days are only valid once the 180 days after the first entry date have passed.
If you are making a detour to Cyprus, you are leaving Turkey. Although the Turkish Republic of Northern Cyprus is a de facto state recognised only by Turkey, a stay there has nothing to do with your Turkey visa – you can consider it as "another state" in this respect.
Reasons not to cycle in Turkey
There is no such thing as the dream destination for everyone. If you can't handle the following things, Turkey might not be the best cycling destination:
Mountains
Cranking up 1000 metres of altitude in one day is almost daily business for touring cyclists in Turkey. There are no flats.
Patriarchal structures
As a white man, especially as an Alman, you have no problems. As far as I know, neither do women travelling alone. However, I have heard from some couples and sometimes observed myself that men often only talk to the men in the presence of women. Patriarchal structures are unfortunately still deeply rooted in Turkish culture. Especially when you move around the country for several weeks, this can possibly get on your nerves.
Dogs (an unfounded argument)
Many people are afraid of dogs and have heard horror stories about strays or the Kangals – the Turkish herding dogs. Personally, I had no problems in Turkey, but I found Greece terrible. There are plenty of strays, but they are scared. And in the quieter countryside where the flocks of sheep are on the move, there is always a shepherd who whistles his Kangals back if necessary. You should just stand still, make yourself tall, maybe even with a stick. Hinting at throwing a stone usually helps, too. But dogs are not an argument against a trip to Turkey in my eyes.
End. I hope that this little summary with tips on Turkey will help you to plan your trip. Have I forgotten anything? Is there another question you have? Write it in the comments!